What is Quickchill?
QuickChill is an innovative, and cost-effective technology to chill drinks and beverages. This new chilling technology saves electricity, reduces maintenance or repair costs, saves money and time for your restaurant, restobar and catering business.
Economic Benefits
Fast chilling
Save electricity cost
Save maintenance, cleaning and repair costs
Save time for preparation
Chilling cost becomes a variable cost not a fixed cost
No need to put more ice to retain flavor
More chilled beverages for your customers
Save space in your restaurant
Avoid panic and save time
Excellent. Good Product for cooling beer.
- Mr. James King Munoz of Padis Point Shaw Blvd.
It is a good product, madali makainom kasi hinahabol yong lamig.
- Mr. Roger Santos
The product will be useful in the restaurant businesses due to its quick chilling capability.
- Mr. Oscar de Leon of Oscarrito
Good Item.
- Mr. Roel Ang of Padis Point, T. Morato
How to Use QuickChill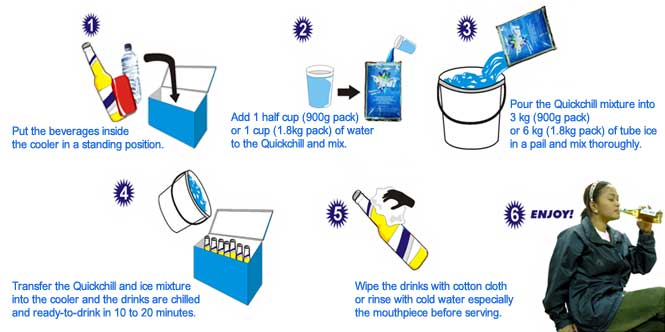 Maximum Cooler size
Length x Width x Height (in inches)
Number of bottles
Weight of Ice
(cracked, crushed, tube ice)
QuickChill
11 x 8 x 12
12 to 48
3 kg
900 g
20 x 13 x 13
36 to 144
9 kg
2.7 kg (1 pack)
26 x 20 x 21
72 to 288
18 kg
5.3 kg (2 packs)
40 x 20 x 24
108 to 432
27 kg
8.0 kg (3 packs)
Facts of Quickchill
What is QuickChill Refrigerant?

Quickchill Refrigerant is an innovative, cost- effective technology to chill your drinks in just 10 to 20 minutes.
How cold it is?

QuickChill is mixed with water and added 9 kilos of tube ice to create a incredible chilling temperature of -20 degrees celsius of the beverage cooler.
What makes QuickChill Refrigerant different?

QuickChill Refrigerant offers fast chilling, eliminates electricity, maintenance, cleaning and repair cost.
What will be the advantage of using QuickChill Refrigerant?

It saves time for the preparation of cold drinks and minimizes out of stock cold drinks. Chilling cost becomes a variable cost not a fixed cost.
What is the importance of Bartender?

Bartenders play a key role in the successful operations of a bar and grill. They provide the customer the bar experience through their friendly greetings, efficient service and close attention to the quality of their cold drinks. They are the vital in preparing the beers to make QuickChill Zone an experience to remember for bar's loyal customers.
What is the major difference of QuickChill Refrigerant to chiller and cooler?

QuickChill Refrigerant with water and ice mixture create a chilling temperature -20 degrees celsius in just 10-20 minutes. The beer standard chilled temperature at 7 degrees celsius and beers chill in QuickChill will chilled at 3 degrees celsius. When beverages are chilled with ice only, the ice gives a 0 degrees celcius temperature, which will take at least 1 to 2 hours to chill beverages. With chillers, beverages are chilled after at least 12 hours.
ON WIPING
Damp cotton cloth
Tissue for mouthpiece
3 second soaking on water
ON CORROSION and BURSTING
Avoid soaking tin canned drinks for more than 3 hours
For unconsumed drinks, rinse with water before storing again
ON ICED DRINKS
For tin canned drinks and bottled water, it will ice after 1 hour to 1.5 hours can be stored longer outside the cooler system
For beer such as San Mig Light, it will ice after 50 minutes to 1 hour
FREQUENTLY ASKED QUESTIONS
Q: Can it be that the bottles are laid horizontally? (Hindi ba pwedeng nakahiga ang mga bote?)
A: It is best recommended that we put our drinks in standing position for better and optimum chilling. (Rekomendasyon natin ay itayo ang mga bote para sa mas maayos at mas buong paglamig ng mga inumin.)
Q: Can I just use my kitchen salt? (Pwede ko ba gamitin ung asin sa kusina?)
A: Salinas has more than 60 kinds of salt. QuickChill is a specialized salt designed for chilling. It is not our usual salt since it is developed for quick chilling. (Mayroong mahigit sa 60 klase ng asin. Ang QuickChill ay isang espesyal na klase ng asin para sa pagpapalamig. Hindi ito ang normal na asin sa kusina dahil pinag-aralan ito para magpalamig ng mabilis.)
Q: It is salt, right? So it would be salty? (Diba asin yan? Edi magiging maalat?)
A: Yes. This is a salt based technology product, there is a possibility that it would create a salty feel. That is why we put the wiping or rinsing step as additional service for your customers happiness. (Oo. Dahil sa ito isang salt based technology product, maaari na may alat talaga kaya dinagdag po namin ang pagpunas o pagbanlaw bilang dagdag na serbisyo para sa kasiyahan ng mga customers.)
Q: Is QuickChill the same with the salt they use in ice cream? (Pareho lang ba ito ng asin na ginagamit sa sorbetes?)
A: No. The one used for ice cream is salt designed for long chilling. QuickChill is designed for quick chilling and is effective for drinks. (Hindi dahil ang asin na ginagamit sa sorbetes ay para sa pangmatagal na paglamig. Ang QuickChill ay para sa mabilisang pagpapalamig at sakto ito para sa inyong mga inumin.)
Q: Why is QuickChill blue? (Bakit asul ang QuickChill?)
A: QuickChill is really made blue to depict the coolness it brings, just like the sea. (Ang QuickChill ay sadyang ginawang asul para mapakita ang lamig na nadudulot nito tulad lang din ng dagat.)
Q: Can I use it in storing and transporting fish? (Pwede ba yan sa mga isda?)
A: We are continuously studying other uses of it including its use for fish. We will get back to you as soon as we have a product designed solely for fishes. As of now, QuickChill is for your drinks. (Sa ngayon po, pinagaaralan po namin ito. Babalikan po namin kayo para sa isang produkto na para sa mga isda. Ngayon po, ang QuickChill ay para sa inyong mga inumin.)
Q: I have a larger cooler which can fit more bottles. Can I use it? (May cooler akong mas malaki at kasya ang mas maraming bote, pwede ko ba yun gamitin?)
A: Yes. You can use multiple packs of QuickChill. Examples, when you have 3 cases of drinks to chill, just use 2 packs of 2.7 kg pack of QuickChill. (Opo. Maaari gumamit ng higit sa isang QuickChill. Halimbawa ay, magpapalamig ka ng 60 na bote, gumamit ka lang ng 2 supot ng 2.7 kg ng QuickChill.)
Q: Can I use ice blocks with QuickChill? (Pwede ba gamitin ung mga bloke ng yelo?)
A: You can use ice blocks provided you break it into smaller pieces, almost the same size of tube ice.
(Maaaring gamitin ang mga bloke ng yelo basta paliitin ito ng kasinglaki ng tube ice.)
Q: How long will the system work? (Gaano katagal ko magagamit ito?)
A: Depending on your usage. If you continuously harvest chilled drinks, it can last up to 2 hours but if you change bottles longer, it can last up to 24 hours. (Depende po sa paggamit niyo. Kung tuloy-tuloy po ang paghango ninyo ng malamig na mga inumin, hanggang 2 oras po ito tatagal pero kung matagal po ang pagpapalit aabot po ng isang araw ang lamig.)
Q: I only have few drinks but my ice chest is large, how will I use QuickChill?(Ang laki ng ice chest ko pero ang onti lang ng drinks ko, paano ko gagamitin ang QuickChill?)
A: If your cooler is large enough for your drinks, you can put a plastic at the top or you can buy your own smaller ice chest or just use your pail or basin. (Kung masyadong malaki ang inyong cooler, lagyan niyo lang po ng plastic sa taas ng mga bote o kaya ay bumili kayo ng mas maliit na cooler o kaya gumamit ng timba o planggana.)